Dust CMS Theme is a Premium CMS WordPress Theme come from Gabfire Themes, Dust CMS Theme designed to help you sell your products or services online( Real Estate Optimally), You can see here. 
The new theme utilizes the prime real estate optimally, 'about us' section, space for linking to your products, and exclusive customizable sections categorizing your products in the context of today's hot platforms/gadgets. Further, a text to let your customer's signup for your newsletters, and a testimony slot where the testimonies will appear, makes your website power packed and useful in one stroke.
Dust CMS WordPress Theme Features:
5 colour schemes (blue, green, red, yellow, black)
Comprehensive theme settings page to tweak layout through admin dashboard
products widget and blog option
Latest WordPress Compatible
Custom Media Module.
5 different color schemes
Advanced Theme Control Panel
SEO Optimized
WordPress Multi Site Compatible
Localization Support
Price:
Gabfire Dust CMS Theme Standard Pack ($59)
Gabfire Dust CMS Theme Developer's Pack ($179)
Download Gabfire Dust CMS WordPress Theme
Gabfire Themes Coupon Code: PIRILLO
Smooth Real Estate WordPress theme  from Gorilla Themes, Smooth theme with Google Maps Integration, that offers a professional and extremely affordable solution for Realtors and Agents to showcase their properties with ease. Smooth Pro Real Estate theme is one of the most affordable and professional solutions for Realtors and agents on the market. We hope you enjoy it and look forward to your feedback.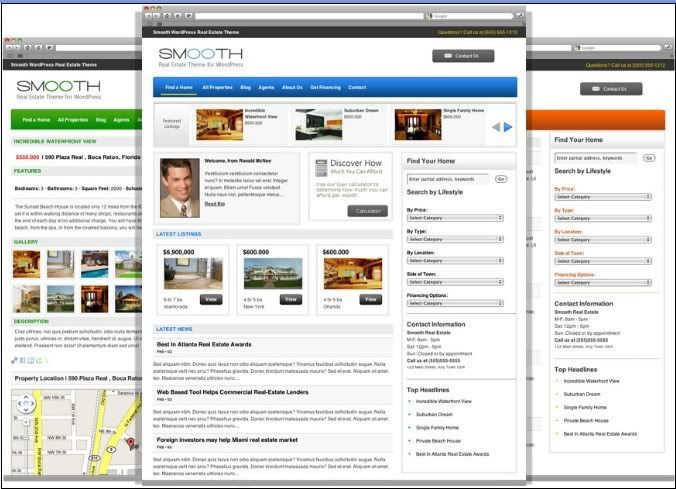 Add 10 (Ten!) new color styles with a new style switcher in the theme options to easily pick your color together with a major re-design of modules, titles tags, and overall smoothness. Better integration in the layout and more attention to detail making this already popular theme a low cost professional solution for Realtors and Agents to build their own website or for web designers and developers to quickly deploy a Real Estate website with all the features that Smooth Real Estate provides. The theme has been updated to be compatible with ANY market (add your own currency) , better mapping script for faster page loading, cross browser compatibility, the heavily requested ?dropdown menus for subpages and ?several bug fixes submitted in our support forums. We've launched a new style switcher ?on the Smooth Real Estate demo page to preview all the new colors (styles) without reloading the page.
Smooth WordPress Theme Features:
One click installation
Featured Property Carousel
IDX-ML Integration (dsIDXPress)
5 Color Styles
Logo Uploader
YouTube & Vimeo video integration
Visitor Property Form Uploader (Premium Package_
Sidebar Widget Ready
Theme Localization
Spanish & English files (Premium Package)
Finance Calculator
Stylesheet switcher
Twitter Integration
Feedburner widget
Facebook Integration
Extensive help and tutorial included
Ad your own Logo and Styles Easily
Google Maps (with Street View)
Contact Form Included
Native Image Auto Resizer
Gorgeous Galleries
Price:
Smooth Pro Theme Essential $39.95
Smooth Pro WordPress Theme basic $69.95
Smooth Pro WordPress Theme developer $99.95
Open House Real Estate wordpress theme from Gorilla Themes . Open House theme is highly customizable Real Estate WordPress theme with Google Maps Integration, offers a professional look for Agents and Realtors that want to build a website around the WordPress platform Compatible with American and European Markets.
Demo& Release Gorilla Themes Open House Real Estate WordPress Theme Now
Open House features custom plugins and scripts that make add/delete/modify listings an easy task with included photo gallery for up to 12 pictures with a lightbox effect, gorgeous photo fade animations and automatic Google Map integration as soon as the address is entered on each individual listing.
The theme can be used as a single or multi-agent website with individual Agent-Realtor pages with listings and biography, Agent photo uploader, no custom fields, financing calculator, unlimited dropdowns, etc.